There are some musicians who seem to think that they can find a producer/engineer who will be willing to work with them for free ("On Spec"). Or they may have heard that if they are "good enough" they shouldn't have to pay for recording… someone will front them.
While in a few number of cases that can be true, as I'm sure someone has told you, "Nothing is EVER free."
I'll walk you through a few common scenarios, and explain where the hidden "costs" are… should you actually find someone willing to work with you on Spec.
1. Established producers will "cost": The truest form of a spec deal is with an established producer who actually has industry contacts and is producing you because they feel they can possibly get a deal for you. However, getting their attention is difficult. Unless you have an inside connection to them in the first place, you will need a very good quality demo to get them interested in the first place. Then if you DO get the deal,YOU WILL NEED TO HIRE AN EXPERIENCE MUSIC ATTORNEY. This will cost you quite a bit, but you need to protect yourself, because the well connected producer is certainly protecting himself. The last thing you want is a scenario where the demos he produces don't secure you a deal and/or aren't stylistically where you want to go musically… and then you find yourself lucky enough to actually land a deal later on (not having anything to do with his demos) and have him suing you for earnings.
2. Inexperienced producers will waste your time (and time is money!): Many newcomers will work on spec, but if they don't have the skills in the first place, you may spend a lot of time working on recordings that never showcase you well in the first place. You can find yourself running months (or years) behind your goals for yourself.
Of course there are all sorts of producers in between, but with ALL of them, including the categories above, these are some of the other hidden costs.
A. They are producing the music with THEIR agenda in mind: No matter who actually does the spec deal, they are working on what they WANT to work on. If you are an artist with a specific vision for your music, you will find yourself giving up control. They may want to write or co-write. They won't care about how "cohesive" the project is with your other music. You will find it pretty much impossible to accumulate enough demos that are close enough together in style to paint yourself as an artist with a vision… and that is what every label (and potential fan) is looking for.
B. Your project hits the backburner as soon as something else happens.: You may find the producer is working with you a fair amount and then (a) another artist they are working with gets a little attention… or (b) They get a big paid client and all of a sudden you find yourself waiting months to finish your songs.
C. Your timeline and goals mean nothing to them: Remember, they are doing this for their own reasons, so your goals of when you want to release stuff means very little to them.
And all of this is if you happen to be "lucky" enough to find a spec deal.
So who is a "spec deal" good for?
An artist who is willing to be a "puppet": If you don't care what style of music you sing, or what type of song, spec deals can keep you from wasting a lot of money on what would still be an in cohesive demo. Then you *might* stumble across the right producer where things just click, and suddenly you now know what style you would like to do.
An artist who is treating their career as a hobby. This can keep the costs of that hobby down. However, remember, you're still going to want to have at least a couple of songs well produced, (or at least with well produced vocals) to attract a producer who can actually produce something good.
Who is a spec deal bad for?
Any artist who has goals, timelines and an artistic vision. The odds of finding a good producer who will care about these things the way you see them is miniscule, and you can wast a lot of productive months or years trying to find this person… and watch your most marketable years pass you by.
So if you are a serious artist whith a strong idea of where you would like to go, suck it up and pay your producer. You get to be the boss. They will deliver what you want… and you control the timetable.
How can you lower the costs/Afford the recording?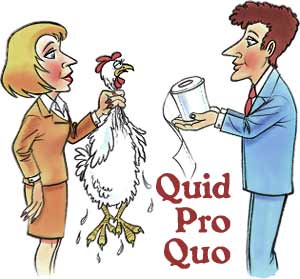 1. Barter: Do you have something worthwhile to offer as a trade? Many producers work on other projects. See if they would be interested in using you as a demo singer. If you play an instrument, see if they have need of your skills on another person's song. Do you have other valuable skills? Are you an accountant, lawer, photographer, web designer, etc… with some services that they might be interested in. These may not be frequent needs for your desired producer, but many will let you build up some "credit" with them to apply against your recording costs.
2. Friends and Family: Scrape up enough to get ONE song done the way you want it. Then approach friends and family to "invest" in you to finish your project. If you've found that magic producer, you will be much more likely to convince them if they car hear the finished product. Then they can imagine how good he'll make the other ones. Besides actually being able to HEAR what it could sound like, they will be impressed that you made the first sacrifice.
3. Be flexible: Ask the producer if there are certain times of the day or times of the year where they might be able to throw you a discount. Many producers will work for a little less if you don't take up their valuable evenings and weekends.
4. Be a Subway musician: If you play the right songs in the right places in New York City, you can make A LOT of money performing in the Subways on New York. I've known SEVERAL musicians who can pull in a couple HUNDRED dollars in 2-3 hours in the right spot. All of them say it feels a little embarrassing the first couple times, (and when they felt embarrassed, not many people tipped) but after they got over that hump, they had fun with it, found the right spots and started earning CASH. The other benefit? You get to tighten your chops by playing ALL THE TIME.
Where there is a will, there is a way. Good luck on your quest!